City Steps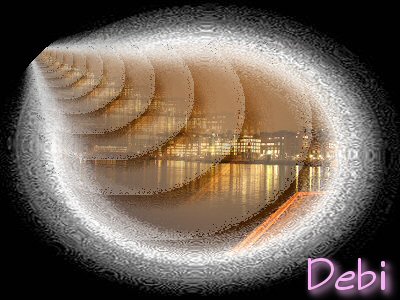 This lesson was written by me on March 29, 2008. Any resemblance to any other lesson
is merely coincidental. You may use this tutorial for personal use only. Please do not distribute in groups,
post on a website or send via Email without permission by me. This tutorial is copyrighted by me. Please do not share without permission.



Debi Jarrell



To do this lesson, you need Paint Shop Pro - any version, although this is done in version 8.
You can get it here. You need photo-city-view-3.JPG and a plain circular mask zip here.



STEP 1


Open your picture, shift>D to duplicate it. Close original.



STEP 2


layers>promote background layer



STEP 3


Resize to 500 pixels on the longest edge



STEP 4


Add new raster layer; Flood fill with white



STEP 5


layer>load/save mask from disk>load mask 08


Use the following settings:


STEP 6


Delete mask, click yes to merge with layer below mask.


Layer> merge> merge group



STEP 7


Layer>arrange> send to bottom



STEP 8


Repeat steps 5 and 6 with picture layer



STEP 9


Resize to 75 percent with the resize all layers box UNCHECKED.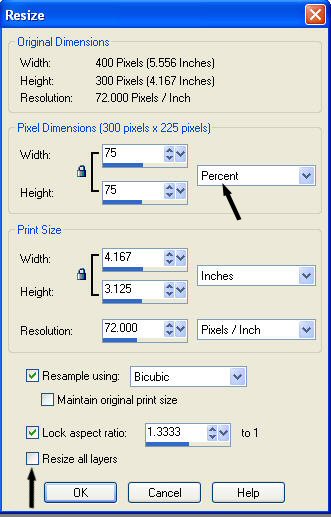 STEP 10


Merge visible



STEP 11


Effects>Reflection effects>feedback


Use the following settings: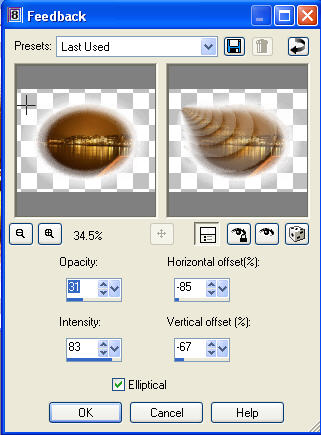 Opacity: 31 Intensity: 83


Horizontal offset: -85


Vertical offset: -67


Elliptical: checked



STEP 12


Add new raster layer. Layer>arrange>send to bottom


Flood fill with black or another dark color you like.



Merge>merge all (flatten)



You're done!



If you would like to add a name or other text, add now. If you are using this image as a stat rather than a tag, you may omit step 3 or change the size to suit.



Also if you like frames, you may add a frame at this point.



I hope you enjoyed doing this tutorial. Please experiment with different masks, and different settings on the feedback filter. Try using the dice (random settings) on the filter to see what sort of interesting feedback patterns you can get. If you have comments or questions, please email me here.