Flag Tag
I stopped here
This lesson was written by me on March 7, 2008. Any resemblance to any other lesson
Is merely coincidental. You may use this tutorial for personal use only. Please do not distribute
In groups, post on a website or send via email without permission by me. The graphic used in this tutorial is copyrighted by me.
Please do not share. If you wish to use my graphic, please contact me prior to use.
Debi Jarrell
This tutorial was done in Paint Shop Pro 8 but can be done in pretty much any version. You may find a demo version
here
. You may use my graphic
here
, or a graphic of your own.
Make sure that the graphic is no more than 500 pixels at the longest edge. If it is larger, please reduce the size of the graphic.
Choose a color for your foreground and background colors, and choose your font. I used Black Chancery with the following settings.
Convert vector layer to raster.
Adjust> add/remove noise > add noise
And use the following settings.
Choose ok. Then Effects> 3D effects> inner bevel
And use the following settings.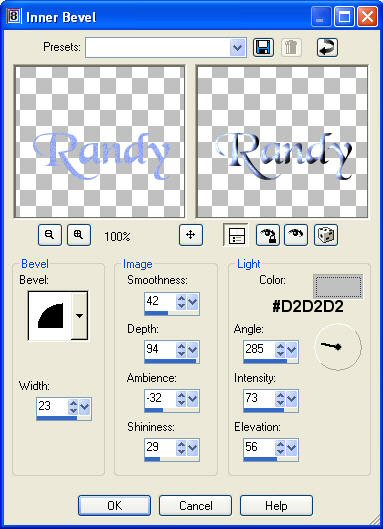 Click on ok, If you wish to add a drop shadow, you may; I did not as the background is
already dark. Choose layers> merge> merge all (flatten).
Add a new raster layer, put your water mark on it, save it as a JPG and you're done.
I hope you enjoyed this tutorial. If you have any questions you can email me
here
.
Copyright © 2008 Debi Jarrell
All Rights Reserved